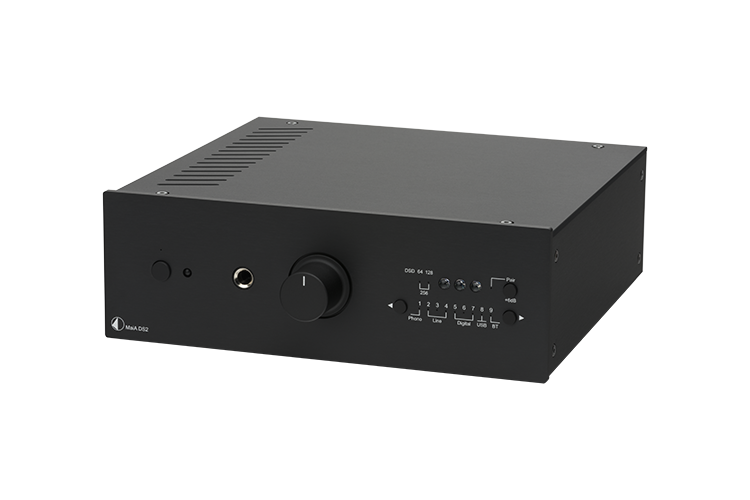 Stereo integrated amplifier with 9 inputs & App control
MaiA DS2: A new generation stereo amplifier with superior sound, App control & future-proof technology!
This small integrated amplifier offers outstanding audio quality and ultimate input flexibility with all digital and analogue input options you can dream of. Superior tube-like sound and a high-class 24bit/192kHz D/A converter stage are combined in a perfect way. Despite its small size, 9 (!) source devices can be connected simultaneously. MaiA DS2 is one of the most versatile products on the market, it offers analogue phono and line as well as digital inputs such as lossless streaming via aptX Bluetooth! Five analogue outputs leave no desire unfulfilled. MaiA DS2 is future-proof and can be upgraded with Power Box MaiA DS2 for even better sound. Power Box MaiA DS2 acts as "One power supply" solution and powers up to 5 Pro-Ject products, like CD, Streamer and turntable. Control via IR remote or App makes usage a piece of a cake. The sandwich aluminium / metal casing is aesthetically pleasing and protects effectively against interferences. MaiA DS2 is available in silver or black with optional wooden side panels.
MaiA DS2 – Free App control (built-in Remote Box functionality)
What makes this amplifier absolutely unique is the built in Box Control system, which allows easy control of this and other IR controlled devices from Pro-Ject via free App. If a mobile device with activated Bluetooth (paired with MaiA DS2) control does not need WiFi environment at all. System is working even during Bluetooth music playback.
Features
Powerful 135 watts per channel (2 ohms drive capability)
Dual mono design principle
Built-in phono pre-amplifier with MM & MC capability
Other inputs: 3x analogue, 5x digital including USB 2.0
XMOS asynchronous USB 24bit/192kHz
DSD capability (DSD64, DSD128; DSD256)
Superb dual 24bit/192kHz D/A converter PCM1796
4th generation Bluetooth with aptX capability & antenna
Volume control with motor driven potentiometer
Headphone output with dedicated amplifier stage
Fixed & variable outputs for subwoofer or second zone amp
IR remote & Built-in App Remote Control via Bluetooth
Free Box Control App controls this + other IR equipment
Optional wooden side panels available
Available in silver or black
DOWNLOAD